we believe in data lies the power to enrich life®
unlock the knowledge that moves everyone forward.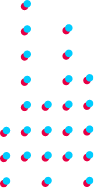 in data lies
the power to
enrich life®
tresata started with the core belief that in data lies the power to Enrich Life and the realization that a select few were able to actually tap into the power of their data. and arguably, of those that could, even fewer were looking to use that intelligence to enrich lives (versus click on ads or cat videos). we looked to those who were doing data well (namely, the FAANGs) and explored how the applicability of the same core technology principles underlying internet-based business models to traditional industries…to transform the way they did business – and ultimately better the lives of their customers.
insights hidden in most organizations' data can tell us how to make things work more efficiently, open up new avenues to revolutionize the way we operate, and generally help us all move forward. and the impact on businesses of every size and description —
health
,
wealth
, and
everything in between
— is enormous.
of course, that's only true if you can use that data.
fun fact: the first known reference to anyone identifying data as THE raw material to power the 'next Industrial Revolution' was made by our very own co-founder and CEO, Abhishek Mehta, in a speech he gave at Strata in New York in 2010. luckily for us, a professor and mentor of his saw the speech and asked him to do more than just talk about it. the rest is history (that we are still writing as we go).
since this infamous speech, not only have we brought to the commercial lexicon (and reality) concepts like Data Assets, Data Factories, Data Domains, Augmented Intelligence, and (most recently) a Digital Business Platform (and so on), we also built a company (this one. Tresata. this is our website, in case you got lost and wound up here by mistake) devoted to developing the sexiest flippin' software on the planet that's focused on perhaps some of the least sexy, yet toughest data challenges in existence.
we are here to take ALL businesses from 'digitally busy' to digital businesses, starting with the lowest common denominator, bit by bit. we believe that in our software lies the blueprint for creating true digital businesses that will transform how people and organizations interact worldwide. and how everyone thinks about what data can do to make life better for, well, everyone.
ready to use all of your data to revolutionize your business?