GIVING EVERY CUSTOMER THE "LOYAL" TREATMENT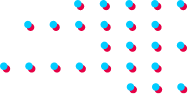 a happy customer is a repeat customer. for this Fortune 100* airline, providing all of its customers with a positive and personalized experience tailored to each traveler is essential to bringing people back again (and again).
the airline's goal was to treat everyone like they're VIP (loyalty is royalty, after all). that means providing proactive support to all flyers during unforeseen service disruptions, enhancing the quality of service, and understanding the airline's relationship with every unique customer — not just those sharing data through the loyalty program.
simply put: know your customer, treat your customer well, keep your customer, and grow your relationship. the secret to doing that for each individual customer, millions of times over, was hidden in mountains of data across multiple core systems.
*FORTUNE is a trademark of Fortune Media IP Limited, registered in the U.S. and other
DBP automatically weaves together data from across the airline's loyalty, booking, ticketing, customer and payment systems — capturing every customer's unique profiles and behaviors, regardless of whether or not they had signed up for the loyalty program. tresata DBP software enables airline service representatives to get the most up-to-date information to help customers with their immediate needs, such as rebookings or requesting a refund. now, gate attendants can proactively personalize service based on recent activity and demonstrated behavioral preferences, identify travelers in need of assistance, and mitigate customer frustration during service disruptions like flight changes and cancellations.
 in-flight service records
learn more about the first step in becoming a digital biz — making data usable.