POWERING A GLOBAL CUSTOMER INTELLIGENCE UTILITY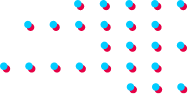 a fortune 10 bank recognized that the vast, disparate amounts of data across its enterprise held tremendous value that could revolutionize its business and services. But identifying that goal was just the first step. the real problem? how to bring all this data together and make it usable.
*FORTUNE is a trademark of Fortune Media IP Limited, registered in the U.S. and other countries.
DBP automatically linked, resolved, and enriched data from the bank's core banking and global payment systems — 300 million entities from over 60 countries, 160+ production data feeds, 200 systems, and 2000+ attributes. the resulting reusable data assets support decision-making at all levels and produce a holistic view of each banking customer. DBP further enriched these data assets with context from real-world market data. the bank has used this intelligence to power 30+ use cases, including customer cross-sell, ESG, transaction monitoring.
average daily volume processed
records processed per minute
you say you want
a resolution.
learn more about the first step in becoming a digital biz — making data usable.