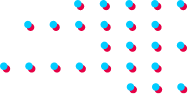 For the World (FTW) was inspired by Tim O'Reilly and his constant refrain that data can make the world a better place. driven by our mission to enable companies to use data to truly understand their unique, individual and human customers (what we call 'segment of one') – what they need and what they want, where and when they need/want it AND our team's inherent desire to always give back using what we know best, we launched FTW to help us all win (FTW – FTW, if you will).
about
as we learned more and gathered more data to see what was preventing (many of) the smartest minds of our generation from doing more than just making people click ads, we realized there were two critical things we had to nail to make FTW effective:
1. a focused cause, and
2. people who understand the potential value of data in a much broader sense.
in other words, we sought to unite the smartest minds + the biggest hearts + data to solve challenges that impact us as humans today…and make it better for future generations to come.
although we originally focused on how this mission could be applied in Education (for the purpose of making education universal, accessible and relevant for all), we have since expanded our scope to include other not for profit organizations and causes whereby we can use data for good.
any organization trying to make a difference in the world (and wanting to use data and analytics to increase their chance for making that dent) can apply for a For the World partnership with Tresata. we'll get back to you very quickly on how and when we can help.
active programs
hackathonCLT
hackathonCLT
, aka the biggest running 24-hour Geek Fest in the south east, continues to educate, challenge, entertain and inspire innovation and engender productive, positive, tech-powered dialogue in the latest tech hub in America. RETURNING SPRING 2023!
Bad Actor Discovery As A Service (BADaaS)
BADaaS is designed to help end financial crime. for free. financial crimes like money laundering, real estate fraud, wealth management scams, embezzlement, securities fraud and many others have taken a human toll worldwide, funding everything from human trafficking to the illegal arms trade. BADaaS lets any citizen sleuth identify beneficial ownership, find bad actors, and explore and expose their networks across trillions of data points constructed from global, publicly available data.
covid applications
COAT
the response against COVID-19 took place on many fronts, but key to slowing its impact was predicting the spread of the virus. our Covid Active Transmission (COAT) prediction application was built to do just that. available at no cost to all healthcare providers, first responders, governmental and non-governmental agencies fighting the pandemic, COAT was built in 3 stages, each building on the others to generate a full, up-to-the-second picture of COVID-19's spread and impact. the tool ultimately delivers predictions on where (and how quickly) cases grow and recede, supporting smarter responses and helping officials know when re-opening society was feasible and where things are spiking. and it became the precursor to HEALTHi, which provided broader predictive capabilities to everyday consumers.
AVAILABLE BY REQUEST ONLY, TALK TO US TO LEARN MORE →
HEALTHi
launched a few months after the start of the COVID-19 global pandemic, HEALTHi was tresata's first official consumer-facing, mobile application. HEALTHi offers predictive health insights powered by publicly available data. the app displays the current risk of COVID-19 spread in the user's immediate surroundings, based on data provided by Johns Hopkins, the U.S. Census Bureau, the National Bureau of Economic Research Health Rankings, healthcare locations, the Covid Tracking Project, the Robert Wood Johnson Foundation, Rt.live, amongst others. The data is refreshed daily, providing HEALTHi users the most accurate and current results to protect themselves and their loved ones.
apply here. apply
now. be part of
the change.