STEP UP.
2 words were all we needed as inspiration to design, engineer, and launch, in less than 5 days, our most recent (and probably most significant) software product.
ANNOUNCING TRESATA COAT: A COVID ACTIVE TRANSMISSION PREDICTION APPLICATION THAT OFFERS THE WORLD A NEW DIMENSION TO TACKLE COVID 19 – PREDICT WHERE THE VIRUS MAY BE HEADED.
TRESATA COAT IS AVAILABLE IMMEDIATELY TO ALL HEALTHCARE PROVIDERS, FIRST RESPONDERS, GOVERNMENTAL AND NON-GOVERNMENTAL AGENCIES FIGHTING COVID 19.  AT NO COST. 
FREE SOFTWARE, FREE ALGORITHMS, FREE INTEGRATIONS, UNLIMITED DATA.
This is our humble attempt to honor the thousands of healthcare workers, first responders, store clerks and rock stars (we are talking about you, Mr. Anthony Fauci) and remind the world that, like them, we too should not get overwhelmed with fear, but instead find it within ourselves to contribute, seek answers, and always BE HUMAN.
TRESATA COAT – THE IDEA
Tresata COAT has the following features and functionality:
DATASETS INTEGRATED


For COAT 1.0 the following datasets have been integrated:
2019 NOVEL CORONAVIRUS VISUAL DASHBOARD, JOHNS HOPKINS UNIVERSITY CENTER FOR SYSTEMS SCIENCE AND ENGINEERING
US CENSUS DATA
US ADJACENCY DATA
US COUNTY HEALTH RANKINGS
US HOSPITAL LOCATIONS BY COUNTY
PREDICTIVE SCORES


COAT embeds 3 predictive risk scores – TCR, TREND & TTRP.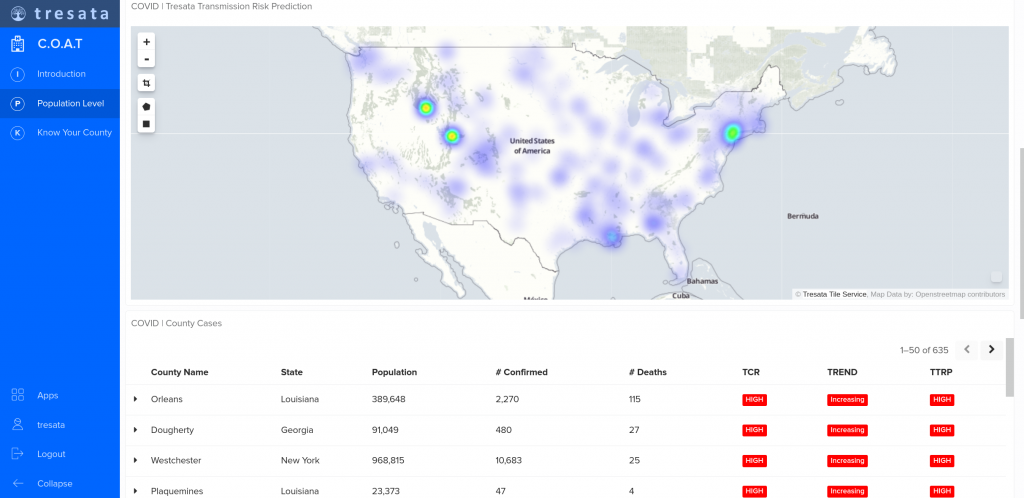 TCR (Tresata County Risk) – Driven by the number of confirmed cases relative to the total county population. Assigned at a county level and categorized as HIGH, MED, and LOW. For example, a county where 1% of its population is infected will have a higher risk score than a county with 0.003% of its population infected, even if there are more cases in the latter county. 
TCR HELPS TO – quantify the potential CURRENT impact for a certain part of the country…
TREND (Tresata Infection Trending Risk) – highlights where each county is on the "curve," using the daily refreshed data to determine the trending risk score for each county. The categories are INCREASING, DECREASING, or STEADY based on the percentage change in the number of confirmed cases from one day to the next. 
TREND HELPS TO – make predictions like looking at where risk is INCREASING, allowing us to closely monitor counties that are HIGH RISK with an INCREASING number of cases.
TTRP (Tresata Transmission Risk Prediction) – TTRP leverages machine learning techniques to calculate a predictive HIGH, MEDIUM, or LOW score of the likelihood that one county infects another, based on not just the 2 predictions mentioned above, but also proximity dynamics. 

IT HAS THE POTENTIAL TO ALTER SOME OF OUR COVID MANAGEMENT STRATEGIES AS IT MAKES IT EASIER TO PREDICT WHICH COUNTIES MAY BE AT ELEVATED RISK BEFORE THEY ARE SYMPTOMATIC OF AN OUTBREAK THEMSELVES.
TTRP HELPS TO – automate the process of identifying potential pathways of viral spread AND uncovering all pathways from one county to another, making it easier to determine HOW TO ASSIGN RESOURCES TO PREPARE FOR THE FUTURE OR CREATE A FIREWALL.
TRESATA COAT RESULTS


In its very first run, COAT allowed us to find a very interesting county, USING THE PREDICTIVE ROUTINES OUTLINED ABOVE.
When we filtered COAT in the Population View to display information for the state of Georgia, we found a clear TRANSMISSION HOTSPOT over Dougherty County, Georgia. When you look it up, you will immediately find that it has the highest number of COVID-related deaths in the state of Georgia currently.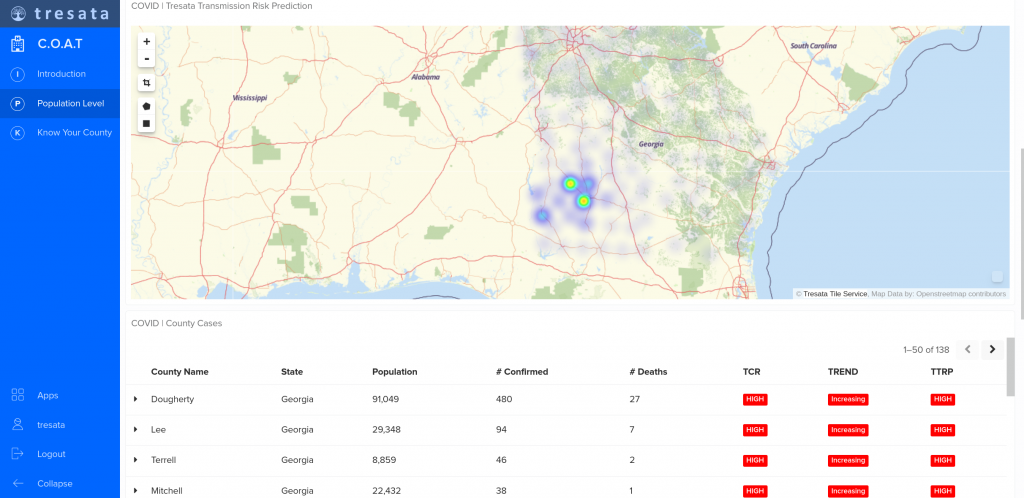 We then wanted to dig deeper, and by utilizing the KNOW YOUR COUNTY feature, were able to quickly get to the underlying data for Dougherty: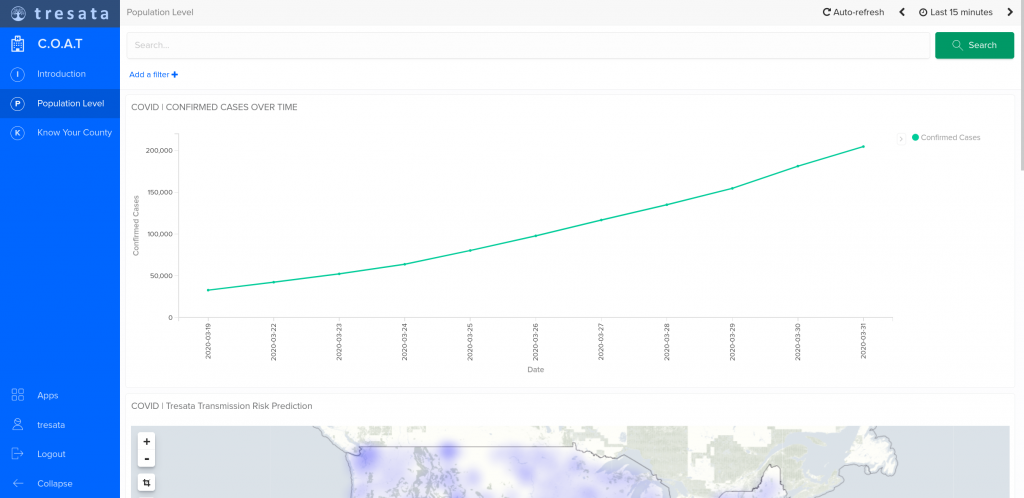 COAT includes a link to all public news about the focal County and related COVID data, allowing for easy verification of the accuracy of the prediction.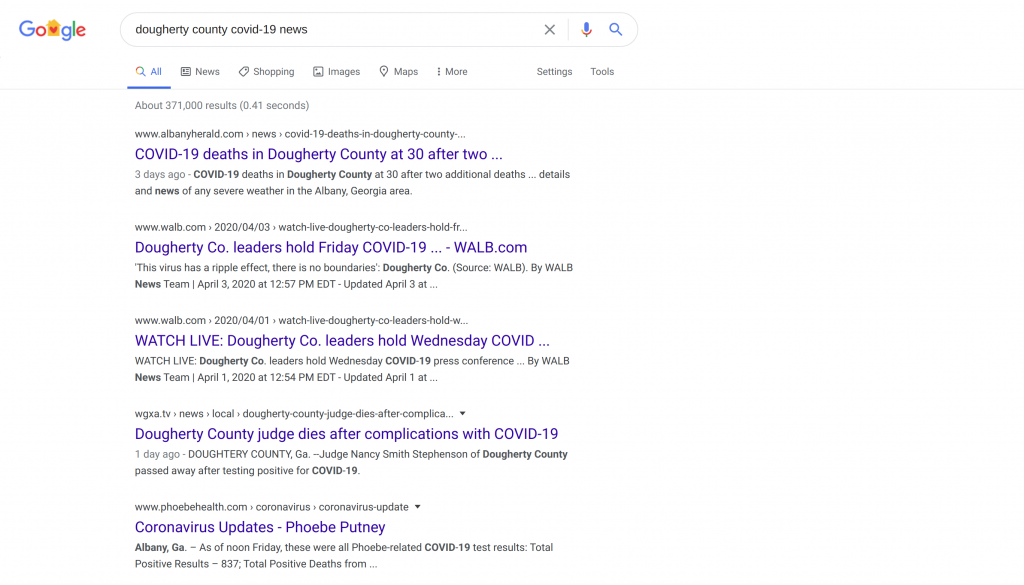 Once we had verified Dougherty was indeed a County worth paying attention to, we shifted our focus to predicting which counties Dougherty was going to put at risk in the future.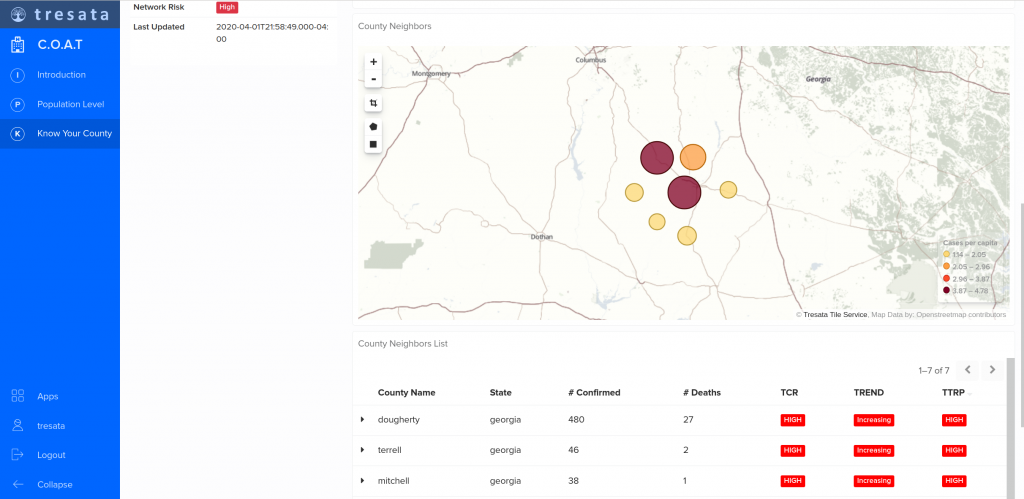 These predictions can be examined interactively via COAT's massively scalable network discovery and traversal engine, allowing for first responders and strategists to better understand for what is headed their way, plan, and prepare.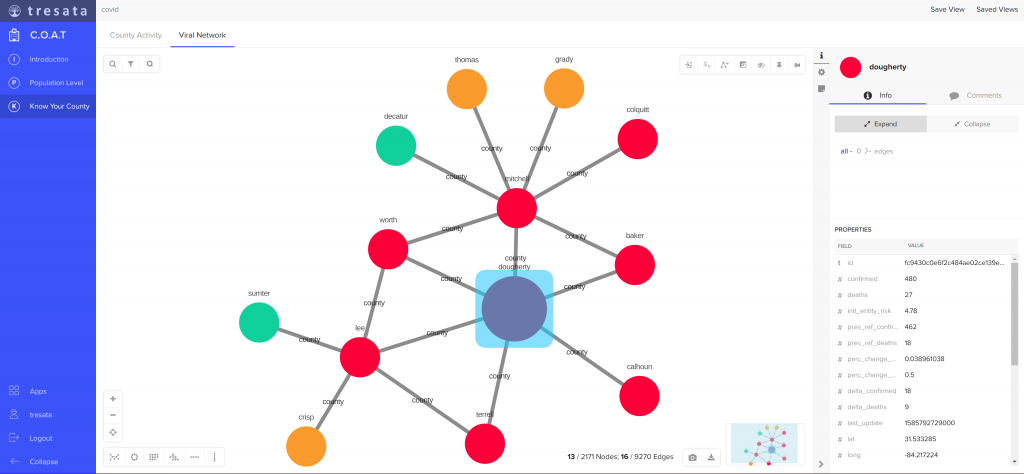 THIS CAN BE DONE FOR ALL COUNTIES IN THE UNITED STATES OF AMERICA, OUT OF THE BOX.
FOR TRESATA COAT 2.0, WE PLAN TO OFFER EVEN MORE OUT-OF-THE-BOX DATA INTEGRATIONS AND A UNIQUE GIVE/GET MODEL, WHEREBY PARTICIPATING ORGANIZATIONS CAN DECIDE TO CONTRIBUTE THEIR DATA IN EXCHANGE FOR EVEN MORE RELEVANT AND REGION-SPECIFIC INTELLIGENCE TO INFORM COVID RESPONSE STRATEGIES.
TRESATA COAT USES


We think, talking to the many heroes on the frontlines tackling this crisis, that COAT can add another arrow to our quiver to address questions ranging from BUILDING A FIREWALL against the spread to OPTIMIZING HOSPITAL RESOURCES like beds, doctors, and nurses when handling the infected, and FRONT-RUNNING TESTING by sending yet to be infected counties an ample volume of tests before they are a hotspot.
We also believe a platform that can absorb and manage massive amounts of data, enrich it at the County Level, and integrate with any source or application is critical to make a GIVE/GET model for hospitals, governmental and non-governmental agencies work.
WHY DID WE MAKE THIS?
WE ARE FIGHTING FEAR, PAIN, AND ANXIETY AS MUCH AS WE ARE FIGHTING THE VIRUS.
AND COAT WAS OUR HUMBLE ATTEMPT TO CONTRIBUTE… AND NOT JUST WITNESS HISTORY BEING MADE.
AND HELP TACKLE SOME OF THAT UNEASINESS AND UNCERTAINTY, WITH INFORMATION, INTELLIGENCE, AND INSIGHTS.
WE HOPE THAT FOLLOWING AN OPEN, TRANSPARENT APPROACH THAT POOLS OUR COLLECTIVE COMPUTE, HUMAN, AND DATA RESOURCES WILL OFFER, AT A MINIMUM, ANOTHER FRONT IN THIS FIGHT OF A LIFETIME. 
WE MAY NEVER SEE TIMES LIKE THIS AGAIN, AND THIS IS OUR (SLIGHTLY) INTREPID ATTEMPT TO NOT LET THIS CRISIS GO TO WASTE…
KNOWING, IN OUR HEARTS, THAT WHEN THE TIME CAME, AND NO ONE WAS LOOKING, WE CHOSE TO STEP UP!
(and (maybe) allow me, my incredible colleagues (thank you chris, kristen, george, courtney, coraline, karan, hardik, nikitha) and our beautiful country, to find a little more peace as we sleep each night)
COAT EXPLAINED