MAKING EVERY BUSINESS A DIGITAL BUSINESS.
100% SaaS. 100% of your data. 0% wasted effort.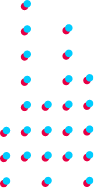 online or IRL, every SMB storefront is different. your customers, your operations, and your goals are uniquely yours. but the global pandemic has massively accelerated the need to digitally engage, acquire, and serve your customers.
problem is, most smaller businesses don't control their data, which sits in POS systems and third-party apps…or worse, are never really captured at all.
that's why we've architected an easy-to-use, low-cost version of our digital business platform (DBP) specifically for SMBs — that can help you become, well, the digital business you need to be. Now you can use your unique data to build a more responsive organization, and earn loyalty from every customer with personalized digital experiences, just like the big fish.
the best part is, as an early adopter you can get there first, and leave competitors behind. DBP SMB solutions let you liberate your data and leapfrog the digital divide.

your customer data lives in third-party apps

DBP puts you back in control

1:1 loyalty for every customer